We mainly supply and export fiberglass mesh, drywall tape, self-adhesive tape, and other tape products. RFS mesh tapes can be made with basic materials and various reinforcing materials to acheive different properties like high temperature resistance, fire retardance, high tensile strength or high adhesion etc.
Our fiber mesh and tape rolls are mainly used in following fields:
Construction ( EIFS mesh, plastering mesh, stucco reinforcing mesh);
Building material (water proofing materials);
Eelectric and marine cable and appliances shielding and insulation materials;
Heating and fire resistant sealing materials;
Bundling materials.
RFS offers fiberglass tape in kinds of sizes commonly 20, 45 and 90 meter roll length and 48mm roll width.

Fiberglass Mesh Drywall tapes for Netherlands, Belgium, Germany, Austria and other market:
Drywall joint tape 5*5mm alkali resistant fiberglass mesh tape;
8*8 fiberglass drywall joint tape;
Self adhesive fiberglass drywall joint tape;
50mm wide white color fiberglass drywall joint tape waterproof drywall fiber tape;
Nonwoven fiberglass tape, non-perforated and perforated 5 cm x 25 m;
Nonwoven fiberglass tape, water vapour permeability, non-perforated 5 cm x 25 m;
Fiberglass mesh drywall tape, self-adhesive, white 5 cm x 25 m and 5 cm x 90 m.

Cross Weave Fiberglass Tape for Bundling and Strapping. A kind of bi-direction reinforced filament tape backed with fiberglass on the base material of PET. Hot melt sealing tape. Good abrasion resistance and high strength. Suitable for heavy goods bundling and package reinforcing. Working at a wide range of temperature. Leaves no glue residue and no deforming of the packed materials.
Cross-Woven Mesh Tape to Spain size: 48mmx50m.
Learn more.
Fiberglass Weld Back-up Tape: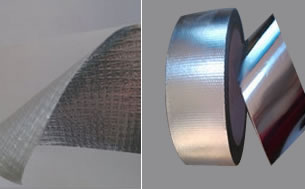 A kind of Heat resistant aluminium foil tape with woven fiberglass mesh as center strip to eliminate or reduce the need for back purging during welding. Attaches to the backside of the weld area and supports the weld pool, keeps the argon gas surrounding the weld pool.
We export following products to Kuwait and other Arab countries: Width of aluminum foil tape is 2.5", width of fiberglass mesh center strip is 1", the roll Length is 12 Meter. The total tape width of 3" with 1" of fiberglass center adhesive strip is also popular. Custom size welcome.
Learn more

High temperature protection mesh tape for hoses and cables

Glass fiber tape withstands continuous exposure to 500°F (260°C), up to 2000°F (1090°C) for 15-20 minutes, and up to 3000°F (1650°C) for 15-30 seconds.
When exposed to flame, the silicone rubber transforms to a crust, creating a protective SiO2 refractory layer.
Available in sizes up to 5" (127 mm) wide.
Fire resistance: Very good
Abrasion resistance: Very good
Flexibility: Outstanding

Textured fiberglass tape used for thermal insulation
Specifications:
1) Thickness:0.13mm, 0.2mm, 1.5mm, 3.0mm ,0. 8 - 6. 0mm
2) Width: 10mm to 60mm,50mm, 100mm (other Width available upon request)
3) Roll length: 30m (other Roll length available upon request)
4)Rated Voltage:220
5)Tensile Strength:2000
6)Color:white,black